Despite any myths you may have heard about moving to an active adult community, NewStyle Communities is here to show you that they're all wrong. You just have to find the right one for you! That's why at NewStyle Communities you can expect thoughtfully designed homes and communities with features and amenities that encourage you to celebrate life to the fullest – no matter what age you are. Now, let's take a closer look at what things you should look for when purchasing a home in a 55+ community.
Ten Tips for Buying a Home in An Active Adult Community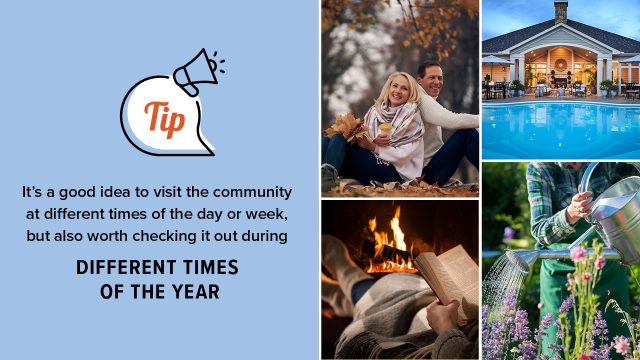 1. Be True to Yourself.
Not all 55+ communities are created equal. There are some that offer just yard maintenance, some with specific architectural styles, some with cruise ship-like amenities, and many other features that could impact your overall active adult living experience. Take some time to research a few different active adult communities in your area or the area you want to live in and narrow down the ones that most align with your lifestyle preferences and offer the amenities and activities that you will enjoy most.
2. Consider the location.
In the larger scope, it's important to first decide the type of area you want to live in such as rural versus urban, waterside versus mountainside, warmer versus cooler climate, and even proximity to family and friends. Something else to evaluate is the community's location within the area itself. Is it easily accessible to medical facilities, shopping centers, and other amenities that are important to you? Communities for seniors should, at the very least, be a short distance from major everyday conveniences.
3. Understand the rules & regulations.
Like many housing communities, there are bound to be some rules and regulations, even ones that go beyond your typical HOA rules. However, some are a bit more strict than others, so you'll want to understand what they are to know if they're reasonable enough for your preferences. For example, some active adult communities may have rules about adult children or grandchildren staying over for extended periods, may not allow pets, or may not limit the board's ability to raise dues from year to year.
4. Assess the amenities.
Each active adult community will surely have its own set of amenities, but make sure they're ones that you would actually use before deciding to move in. Some amenities will cater to the location such as if it's located on a golf course, while others may have amenities on top of organized activities and events for residents to enjoy. Some common amenities include a low-maintenance lifestyle, a clubhouse with a fitness center, a pool, walking trails, and sports courts. Make sure the amenities cater to your interests and will enhance your quality of life. After all, you will be expect to fair your share for upkeep and maintenance of all amenities.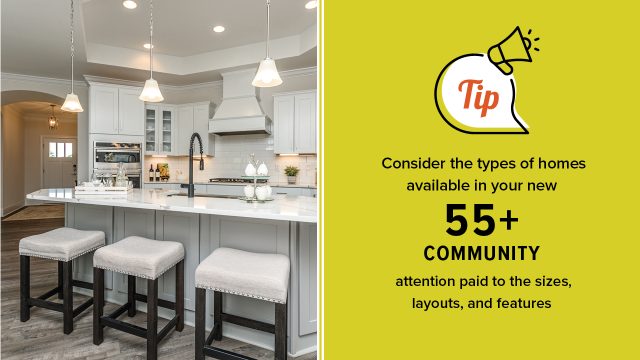 5. Evaluate the type of home options.
If you're anticipating that this will be the last home you purchase, you'll definitely want to consider the type of homes available in your new 55+ community. The types can range from single-family homes and townhomes to condos and even RV parks. Also think about the sizes, layouts, and features to ensure you don't feel like you need to move multiple times as your life changes. For instance, NewStyle offers both single-level and two-story homes with Universal Design features for accessibility, so you can gracefully age in place.
6. Determine the cost against your budget.
It's likely you're looking into 55+ communities because you're thinking about retirement, which means that sticking to a financial budget will be more important than ever. Take into consideration the total cost of the community you're looking at and what type of financing they offer. Some costs may include upfront costs, monthly fees, taxes, HOA dues, clubhouse memberships, and maintenance fees. Find out what you can about the cost of living in the community, and then ensure it fits within your budget.
7. Seek reviews from current residents.
No one will be more honest about what it's like living in communities for seniors than the seniors currently living in them. If possible, talk to current residents of the community to gain insights into their experiences and satisfaction levels. They can provide really valuable information about the community's management, lifestyle, and any potential concerns. This is also a great way to test if you'll like your potential neighbors.
8. Visit the community multiple times.
Not only is it a good idea to visit the community at different times of the day or week, but it's worth checking it out during different times of the year depending on how quickly you need to move. This will give you a better idea of the community's overall atmosphere, how it's maintained, the noise levels, and the frequency of activities and events held there. Visiting often will also give you time to notice small details like if the sidewalks are shoveled right after snowfall or if the pool is cleaned regularly.
Contact NewStyle Communities Today!
One thing you can be sure about when moving to a NewSyle 55+ community is that we will do everything we can to ensure it's the right move for you. We pride ourselves on developing communities for those 55 and better that allow you to enjoy every moment of your free time. If you want to learn more about our communities in North and South Carolina, don't hesitate to connect with us by phone or online. We can't wait to help you!