At NewStyle Communities, it's always been our goal to create 55+ communities that make the lives of our buyers better. This includes building in convenient locations, using quality, durable materials and products, developing thoughtful floor plans including features they can grow with, and offering a maintenance-free lifestyle.
When searching for maintenance-free communities, you may come across several that say they are maintenance-free but really are considered low maintenance. They're not exactly the same thing though. NewStyle has built these types of homes for years and understands what it means to offer truly maintenance-free homes and why they're the way to go for those 55 and up.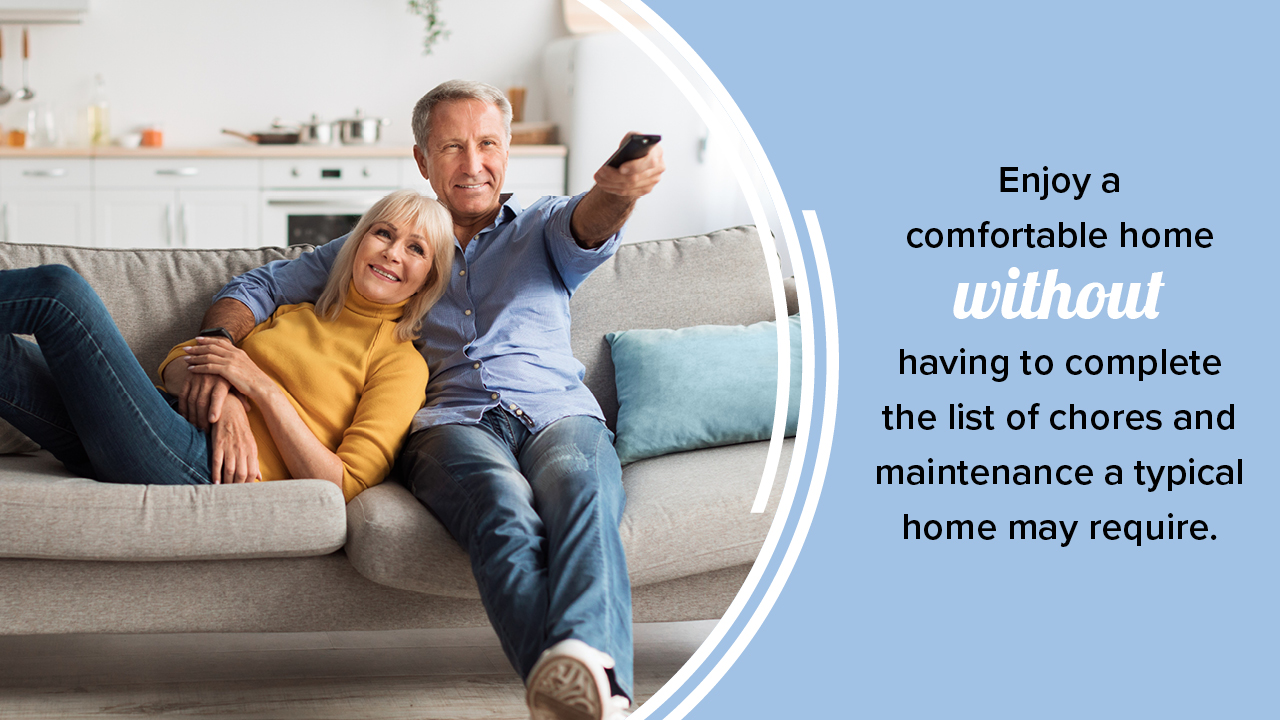 Low Maintenance vs. Maintenance Free Communities
Those 55 and up deserve the luxury of waking up carefree. Taking the time to sip coffee on the front porch and enjoy all of their accomplishments. Have you ever imagined doing such a thing? Well, you should! You should be able to enjoy a comfortable home without having to complete the list of chores and maintenance a home can require. It should be simple living all the way around, and a maintenance-free home can help. The active adult communities you search for should include benefits that allow you to sit back, relax, and start living the lifestyle that you choose. A low-maintenance community can also fit that bill, but only so much. When you really want to live carefree, maintenance-free living can't be beaten.
It's important to understand the difference between low-maintenance and maintenance-free active adult communities to make the best decision based on your needs. When choosing low maintenance, lawn care is done for you. Things like mowing, shoveling snow, and raking leaves are done for you. Sometimes landscaping, driveway resealing, and lawn irrigation are also completed depending on how the homeowners association is set up.
Maintenance-free homes include so much more than just lawn-related maintenance. This is why they are often highly favored by homeowners 55 and up. The maintenance includes everything a low-maintenance home includes with the addition of a full exterior upkeep. Things like painting sidings, window repairs, roof and gutter repairs, fence mending, and sprinkler system repairs. You can look forward to a beautiful home exterior all year long without lifting a finger!
There are many benefits to choosing maintenance-free communities for those 55 and up.
Time Saving. Whether retired or not, you don't want to spend any extra time you may have to do home repairs and upkeep. It can take a lot of time out of your day and weekend, which would be better spent enjoying hobbies or spending time with family and friends.
Money Saving. The costs of owning and maintaining lawn tools and machines as well as storage needed to hold them can be a lot on your account over the years. Even if you are still working, it's extra money you'll need to spend each time something breaks down or take off of work if major repairs are needed from not having it kept up in the first place.
Less Stressful. Homeownership can add a lot to your to-dos when it comes to maintenance and repairs, but living in a maintenance-free community checks off that list for you. No more researching how to repair something or trying to find and hire someone each time there's an issue.
More Freedom. You can leave for a long, well-deserved vacation whenever you want knowing your home's exterior will be taken care of.
Ideal For Aging in Place. As you age, it can become challenging for your body to handle the upkeep. And that's okay! You can grow with your home and know that instead of climbing up and down ladders to clean the gutters or trimming trees in the heat, you can rest and relax.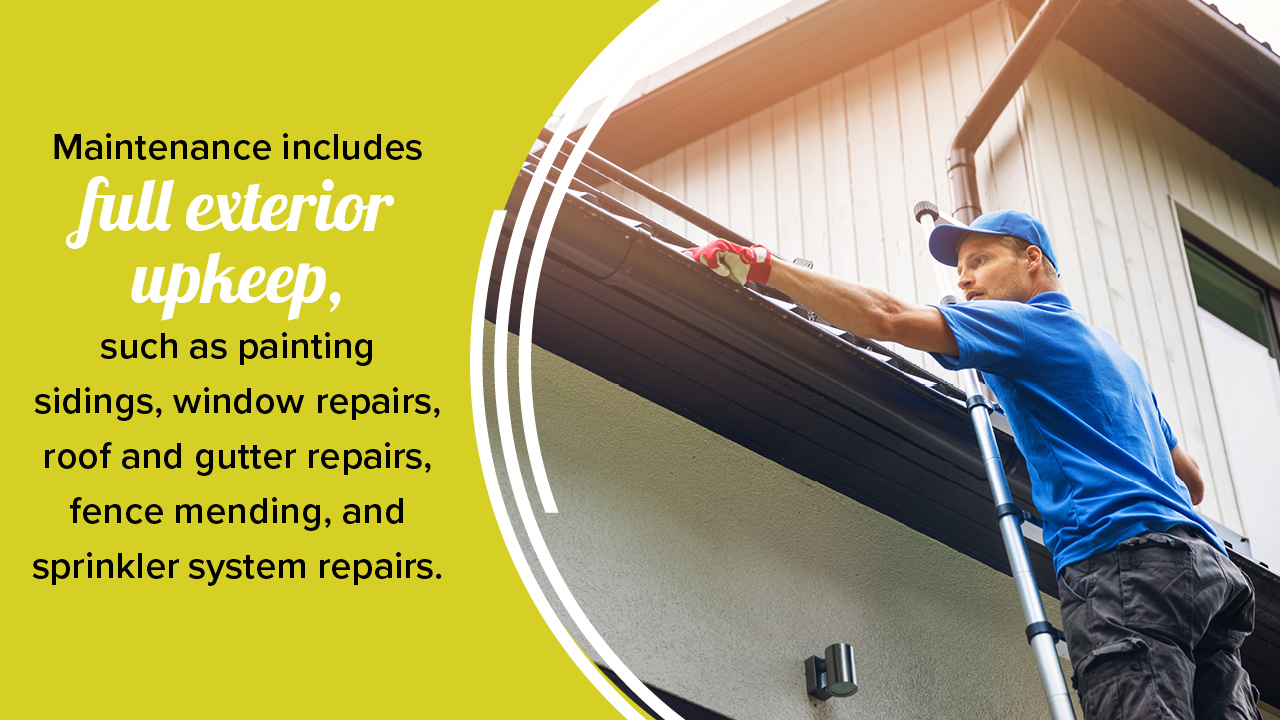 What Do NewStyle's Maintenance-Free Homes Include?
NewStyle Communities makes it easy for those 55+ to enjoy every part of life. Our homes are single-level with many features to help you age in place gracefully. We take just as much care with the exteriors of our homes so that you can do less work and have more fun. From gutter repairs to mowing the lawn and painting, we ensure your home is well cared for. Here are a few things you can expect from our maintenance-free homes and communities.
Landscaping and Lawn Maintenance. You can look forward to and be proud of a beautifully manicured lawn. We offer weekly mowing, edging and blowing, seasonal tree and shrub maintenance, fertilization and pruning as needed, pine straw and/or mulch replenishment twice a year, entry flower annuals planted in spring and fall, and weed control in planting bed areas.
Community Area & Amenities. Living in an overall appealing neighborhood is not only great for adding value to your home, but gives a great sense of community pride, especially when inviting people over. We'll handle the entry and street lights, repairs to paved areas, service water drainage and runoff, and mailbox and mailbox kiosk repairs.
Exterior Repair & Replacement. You won't have to worry about costly repairs to your home's exterior or taking the time and energy to fix them. We have you covered with exterior light fixture replacement, shutter repairs or replacement, stucco, siding and trim repairs or replacement, shingles or metal roof repairs or replacement, gutter clean-out once a year, gutter and downspout repairs and replacement, exterior door and window caulking, and exterior pressure wash every two years, if needed.
Painting & Staining. Nothing like a fresh coat of paint to make things look new again. Maintenance-free with us means that front entry doors are stained every two years, courtyard exterior doors are painted every two years, and siding, trim, columns & stucco are painted every five years.
Connect with Us Today!
As an expert in 55+ communities, we know how to make a home convenient, comfortable, and carefree for this phase of your life. We specialize in making sure you have everything you need to live the best life in a single-level all-brick home built to last. Our maintenance-free homes will provide you with the effortless, fun lifestyle you deserve. If you're ready to start living that life,  contact us online or by phone for any questions. We look forward to helping you!