Gone are the days of "cookie cutter" homes in newly developed communities, where the sameness of each home leaves a less than desirable impression, and maybe even an unwillingness to live there. Today, when you drive through a new neighborhood, each home should have a distinct and pleasing look that makes the eye linger in appreciation, if just for a second. We call this "curb appeal," and it's very important to us at NewStyle as we design homes and neighborhoods that look and feel amazing to live in.
As a home shopper, you know great curb appeal when you see it; the house looks balanced, interesting, and well-kept. As a homeowner, you definitely want it. A nice-looking exterior and landscaping reflect positively on the owners, indicating that you take pride in your property. Plus, homes with great curb appeal sell for about 7% more than similar houses with drab exteriors, if you ever need to move. Overall, high curb appeal makes a community a beautiful place to live, and who doesn't want that?
There are a few secrets to great curb appeal, though. In this article, we'll highlight three of the ways NewStyle incorporates curb appeal into every single home we build.
Thoughtful Window Placements
Windows are the "eyes" of the home. They are what commands the most attention when someone gazes at a home, and what physically lets in critical natural light to brighten the interior. The windows on the front of our homes are thoughtfully chosen and placed to complement the exterior style, design, and aesthetic. They make the home pleasing to look at. At the back of the home, where the largest living area typically is, we add our largest windows to let in the most natural light. Window placement is a critical component in both curb appeal and function of a home.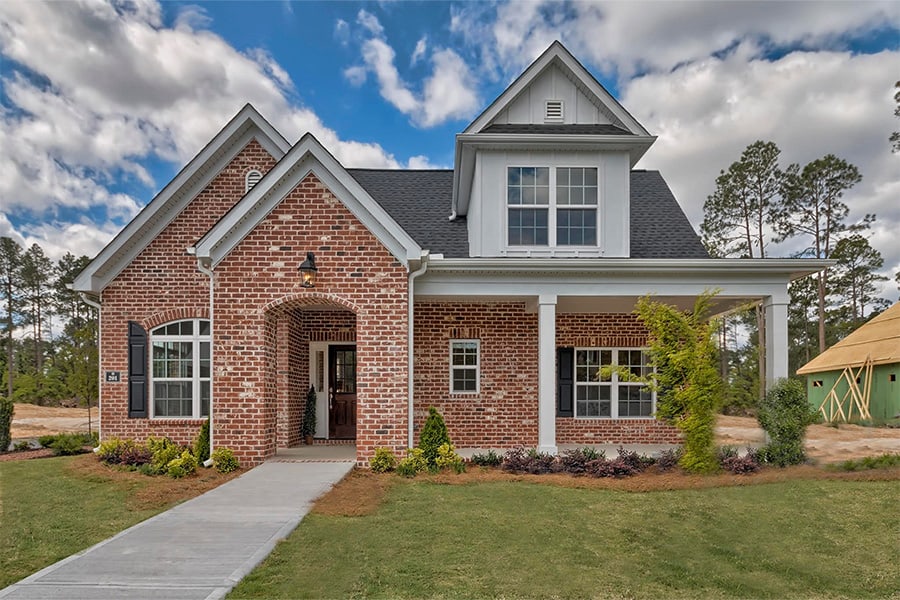 Proportionality
Proportions are incredibly important to the exterior of a home, creating a "balanced" look. Each exterior element serves a purpose to complement the other architectural elements of the home. Features such as roof masses (gables vs hips), texture types and locations (siding, stucco, and stone), window placement and sizing, and corbel and beam detailing all play a part in creating an ideal exterior aesthetic.
Lawn Care and Exterior Maintenance
Every single NewStyle Community provides you with landscaping and lawn maintenance, which includes weekly mowing, edging & blowing, seasonal tree and shrub maintenance, fertilization & pruning as needed, pine straw and/or mulch replenishment twice a year, entry flower annuals planted in spring & fall, and weed control in planting bed areas.
We also take care of your exterior maintenance, which includes exterior light fixture replacement, shutter repairs or replacement, stucco, siding and trim repairs or replacement, shingles or metal roof repairs or replacement, gutter clean-out once a year, gutter and downspout repairs & replacement, exterior door & window caulking, and exterior pressure wash every two years, if needed. Front entry doors are stained every two years, courtyard exterior doors are painted every two years, and siding, trim, columns & stucco are painted every five years.
So, not only will your home always look fresh, clean, and welcoming, but you'll also have more time to spend doing whatever you want!

If you're searching for a new home with built-in curb appeal, we'd love for you to come visit any of our new home communities in Charlotte, NC or Greenville, SC and see the difference that great curb appeal makes! If you'd like to see the interiors of our beautiful homes as well, please contact us.