At NewStyle Communities, our expert team members know what it takes to make 55+ active adult living the best possible. The goal of each community we build starts with making your life better and including the things that are most important to you. Communities where you can enjoy the good life every day without worrying about the maintenance of your home. Where you can experience the best moments of life in a superb and convenient location. And where neighbors become friends and family.
We're excited to share that we're building yet another wonderful community that exudes these qualities. We've already broken ground and are starting construction at The Courtyard on New Hope. The community is lively and loud with construction crews as it brings you that much closer to the quiet, peaceful retreat you'll love waking up to every day. In fact, there's so much to love that it's already 50% pre-sold, so make sure you connect with us to claim your spot.
The Courtyard on New Hope is conveniently located in Cramerton, NC just 25 minutes from downtown Charlotte and 15 minutes from the Charlotte Airport. It's a small, quaint community of just 30 home sites that include the single-level, maintenance-free lifestyle our communities are known for. While your anticipation builds for the completion of this exciting new community, you may be wondering what it's like to build with NewStyle Communities.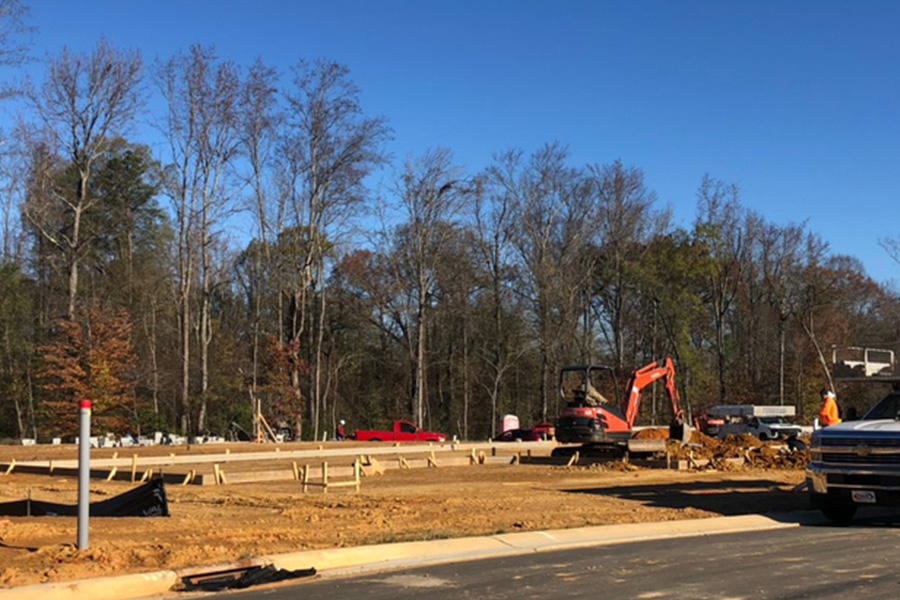 Building Your New Home at The Courtyards on New Hope
We pride ourselves on providing the best experience during the home-building process. We like to make it as simple and rewarding as possible. Here are the 3 simple steps to building your NewStyle home.
1. SELECTIONS
Select A Home Site: If you've chosen a NewStyle community, you've already completed the first and easiest step. Now it's time to select your one-of-a-kind home site for your chosen floor plan.
 Design Appointment: Have fun selecting the details of your home with our in-house designer. From cabinets to flooring and everything in between, our library of options will have just enough choices to make your home feel customized without being overwhelming.
2. CONSTRUCTION
Pre-Construction Meeting: You will meet with our Project Manager on your property to review your home plans and to discuss the construction schedule. No detail missed!
 Pre-Drywall Meeting: At this stage, you will meet your Project Manager on your property to review any electrical options (e.g., additional recessed lights, extra outlets, etc.), and discuss the remainder of the building schedule.
Quality Mark Inspection: Your home is complete! But for your peace of mind, we hire a licensed, third-party home inspector to thoroughly inspect your home inside and out. If there are any deficiencies, the Project Manager, along with the Trade Partners, will perform any needed repairs within one week.
New Home Orientation: When it comes to the workings of your home, we'll never leave you to figure it out on your own. Prior to closing, you will meet with the Project Manager on your property to review all of the systems and operations of your new home.
3. MOVE-IN
Closing: We'll coordinate your home's closing with our preferred closing attorney and, if applicable, your lender. Now we can officially hand over the keys and let you unlock the door to your new maintenance-free lifestyle!
Customer Care: We care that you're confident in your purchase, so you'll receive a Home Buyer's Manual at your New Home Orientation. It will provide every detail you need about our one-year warranty and the manufacturers' warranties. You'll also receive a short, online survey to provide feedback on how we did. (So far, 93% of our home buyers would recommend us to a friend!)
As mentioned, The Courtyard on New Hope is already 50% pre-sold, so if you're ready to spend more days doing what you love, now is the time! Connect with us online or by phone at 704-837-8301.