In our communities, life is meant to be lived on your terms. Which, we presume, means doing things you want to do.  Lucky for you, NewStyle Communities offers low-maintenance living, so every day is wide open for you to do less and enjoy more.
With all of our years of experience, we know that when you take annoying chores out of your day and replace them with the things that make you happy, life is so much sweeter. Just think about all the extra time you'll have. Time you can spend enjoying your neighborhood and its amenities. Such as the clubhouse and pool at Blaize Ridge!
The intimate design of Blaize Ridge makes it so easy to connect with your neighbors and cultivate new friendships in our shared community spaces. A gathering in the common room… pinochle by the pool… serenity in the shade… cozy chats by the fire… shall we go on?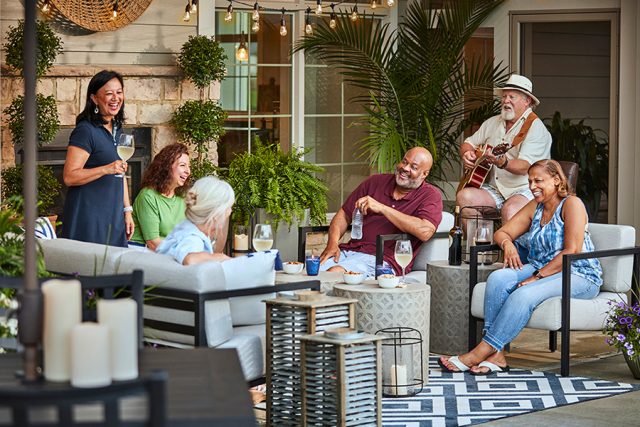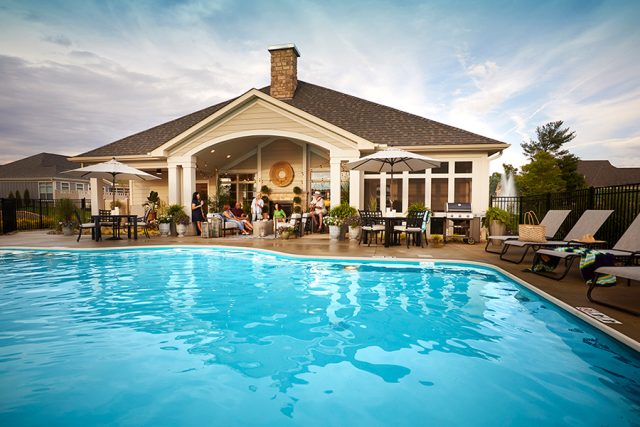 You'll have no problem making new memories at the clubhouse, as languorous afternoons linger into spontaneous evenings. Cut-throat poker games, maybe? Or impromptu sing-alongs. Book clubs, No matter what you're looking for, there's always something happening at the clubhouse.
Meet up with your neighbors at the fitness center and make true progress on leading a happier, healthier life. Strength training, yoga, aerobics. Let's get that heart rate going! Enjoy the peaceful meditation of a morning swim, but balance it with a boisterous frolic with the grandkids in our heated pool. (Marco Polo, anyone?)
No doubt about it… a lively clubhouse and a splashy pool are just the things for making new memories and sharing plenty of laughs. And our maintenance-free lifestyle gives you plenty of time to relax and enjoy. The sooner you make your move to Blaize Ridge, the sooner you can be lounging by the pool and having fun with your new neighbors.
However you choose to spend your carefree days in your NewStyle home and community, the time you spend with family and friends is priceless! Interested in learning more about a carefree lifestyle? Just get in touch with us!