You may already know that a NewStyle home is built just for you, with distinctive features, modern designs, and gorgeous finishes that you choose. You may also know that a NewStyle home is better, from its cutting-edge design to its high-quality construction. But did you know that a NewStyle home is carefree, too?
Imagine waking up in the morning, cozy in your owner's suite, knowing that your day is wide open and free… You can head out to your private courtyard to enjoy a nice cup of coffee, read the morning paper under the sun, then go for a leisurely walk around the community before you start your day. You could also head into town for a fun excursion. Brunch? Shopping? Whatever you want to do, you can do it in a NewStyle Community — because we believe the best things in life are carefree.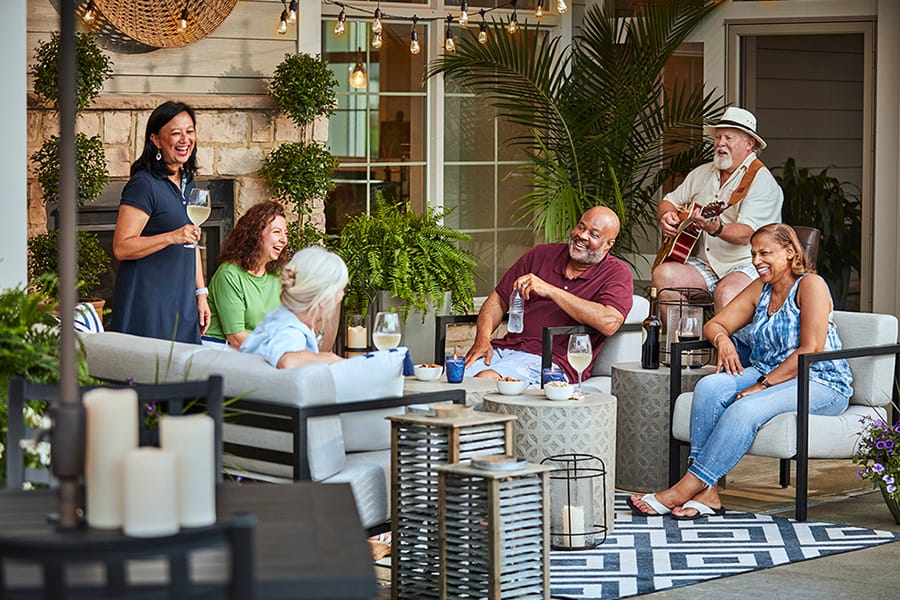 Free to Relax: All of our contemporary and comfortable homes are low maintenance, which means that you can enjoy every moment of your time without worrying about home repairs or yard work. No more mowing, mulching, edging, or shoveling. Finally, you can leave the work to someone else, and fill your schedule with everything you want to do. Whether you want to attend social events, explore the world, or simply relax with your family, the choice is yours.
Free to Explore: With home maintenance off your plate, and neighbors who are just as happy and fun-loving as you are, there's a complete sense of calm and relaxation wherever you go. In a home that embraces your lifestyle, you have every opportunity to practice your hobbies, explore new passions, visit friends and family, travel, and so much more without ever feeling stuck or stressed.
Free to Travel: Our secure community ensures that you can pack up and go… wherever you want, whenever you want. Whether it's a planned vacation or a spur-of-the-moment road trip, you can take the leap and enjoy every moment of your trip knowing that we'll continue the upkeep while you're gone. This way, returning home is just as sweet as your vacation.
Free to Connect: Want to take a nightly stroll down to the pavilion with your neighbors while the sun sets? Want to have your grandchildren over for a visit and play in the garden? When you live in a NewStyle Community, the only requirement is that you put yourself and your needs first. Your new life is all about having more time to have fun. It's your time to get out there and soak up all of the sunshine. Forget about rules… You can now live carefree!
Throw your cares away and make the move to a NewStyle Community that offers you comfort and convenience, and treats you like family. We can't wait for you to experience the true meaning of carefree! If you're ready to start this once-in-a-lifetime journey, our brand new homes are ready for you, too. See below for more information on our NewStyle Communities in Charlotte, North Carolina or Greenville, South Carolina.