What happens when you take unnecessary stressors out of your day-to-day life and add in all the things that make you happy? You get the sweetest, most fulfilling life of all! In a maintenance-free NewStyle Communities home, every day is wide open and waiting for you to enjoy the wonders all around — whatever that means for you. And with low interest rates and available homes, 2022 is the year to make it happen!
At NewStyle Communities, we're not just building experts, we're people experts, which means we understand what you want, need, and deserve in your next home. Our team creates homes and communities that you love and can't wait to come back to (yes, even when you're coming home from that bucket-list vacation across the country or world…)
Living here is all about choices — and the best part is that the only ones you ever have to make are your own. No matter the lifestyle you want to live, you can finally live it to the fullest here!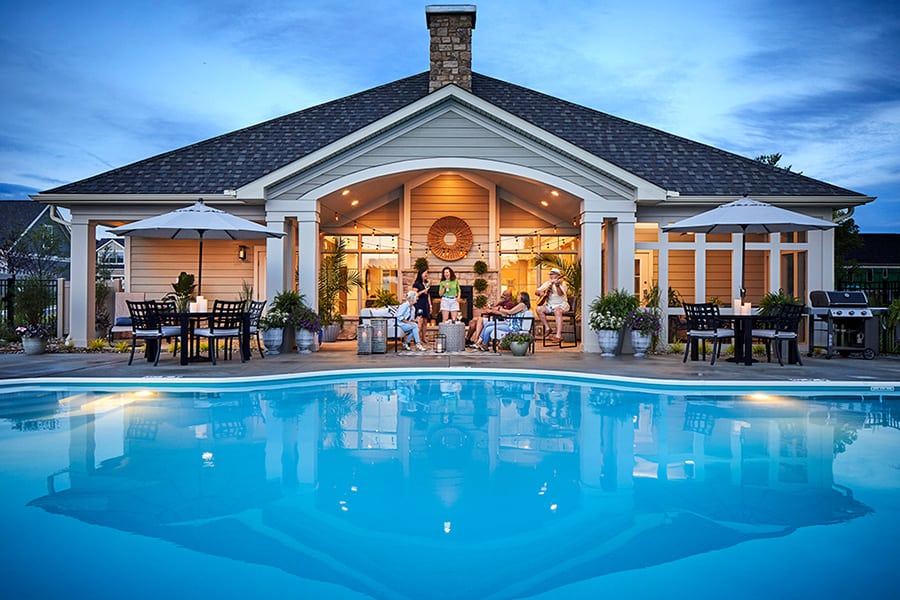 1. Lawn Maintenance
What if we told you that next winter, you'll never have to worry about fallen leaves or branches littering your walkway? Or that in the summer, you can actually enjoy the gorgeous weather, without having to upkeep all the maintenance in the heat? Our lawn maintenance team mows your lawn, rakes your leaves, and performs top-notch snow removal so that you can say goodbye to your yard tools and say hello to beautiful views year-round. Take a cozy seat in your four-seasons sunroom and take in the magic…
2. Exterior Home Maintenance
If you've ever had to change (or even cancel) plans because of an unexpected home repair, then you know how frustrating it can be to feel overwhelmed by your home. At NewStyle Communities, we're firm believers that your home should have your back — not hurt it. Forget all about cleaning your gutters, fixing siding, etc. We have you covered so you can enjoy every inch of your cozy home.
3. No Stairs
You know how the song goes: "Single level and the living's easy…" Well, close enough! Think about all the times you've had to lug laundry or a suitcase up your stairs. Now imagine never having to do that ever again (if it sounds too good to be true, you've come to the right place)! In one of our gorgeous homes, you have everything you need right on one stylish, open floor, so comfort is yours 24/7.
4. Abundant Storage
When you right-size with NewStyle Communities, you don't have to sacrifice a thing to enjoy a comfortable, stress-free lifestyle. With a ton of storage space in your new home, you can bring along your most valuable items and keep them safe and sound. With your belongings organized the right way, you have space in your home and heart to make new memories… while having access to the ones that came first.
5. Clubhouse & Amenities
At NewStyle Communities, life is all about meeting new friends, enjoying new experiences, and having fun — so of course our communities are filled with the incredible amenities that you love! From pristine sidewalks and scenic walking trails to spectacular clubhouses with beautiful pools and fitness centers, there's so much to do when you're not enjoying the peace and privacy of your stunning home.
Here are the NewStyle Communities where you can start enjoying maintenance-free living today!
Paxton Meadows | Greer, SC
2 & 3-Bedroom Homes from $375,000
Blaize Ridge | Greer, SC
2 & 3-Bedroom Homes from ​the ​$390,000
The Courtyards on New Hope | Cramerton, NC
2 & 3-Bedroom Homes from ​the ​$400,000
If you're ready to make your most exciting move yet, all of us at NewStyle Communities can't wait to meet you! For more information on our homes and communities throughout North and South Carolina, please call or email us (contact information is below).