If you could dream up a permanent vacation, where would it be? Perhaps somewhere with year-round moderate temperatures, so that you can enjoy the outdoors whenever you'd like. Maybe the cost of living and taxes are low in that special place, so you can save more of your hard-earned dollars. Of course, it should be somewhere with beautiful scenery, and close enough to the ocean or the mountains to take a weekend trip. Bonus points if it's near a culturally-rich mecca, where art, music, and world-class dining are a way of life. Oh, and it should be easy to access, for when the family wants to visit, or when you feel like venturing out to visit them. Such a place exists, and it's called Charlotte, North Carolina.
Charlotte checks all the boxes for the perfect place to retire. There's beautiful natural scenery, a lively city scene, and of course North Carolina's awesome tax benefits. Retirees are taking notice. In 2018, according to the U.S. Census Bureau, North Carolina was the third most popular relocation destination for people 60 years and older. Let's explore some of the reasons that people love to call this area home!
1) Attractive Tax Benefits
North Carolina does not tax Social Security benefits, so it's attractive to retirees who want to make their income stretch. For those who can't shake the entrepreneurial spirit, the state also encourages business and entrepreneurship with its low income and corporate income taxes. We encourage you to meet with your tax adviser to review the latest tax benefits of retiring in North Carolina. One thing we know for sure is that it's worth it!
2) Be Active, Every Day
The year-round mild climate beckons residents to get outside and enjoy the fresh air and sunlight. Charlotte is close to three national parks and four state parks, all within an hour's drive. Whether you prefer to hike, bike, paddle, or even fly, there's an activity that's close by and convenient. In Mecklenburg County, where Charlotte is located, there are 62 miles of developed greenway trails, plus 8.8 miles of urban trails, 74.8 miles of natural preserve trails, and 92 miles of park trails. It's easy to get your recommended dose of exercise every day, and then some! And if you love visiting the ocean, coastal North Carolina is dotted by charming towns and seaside destinations, just over three hours away by car.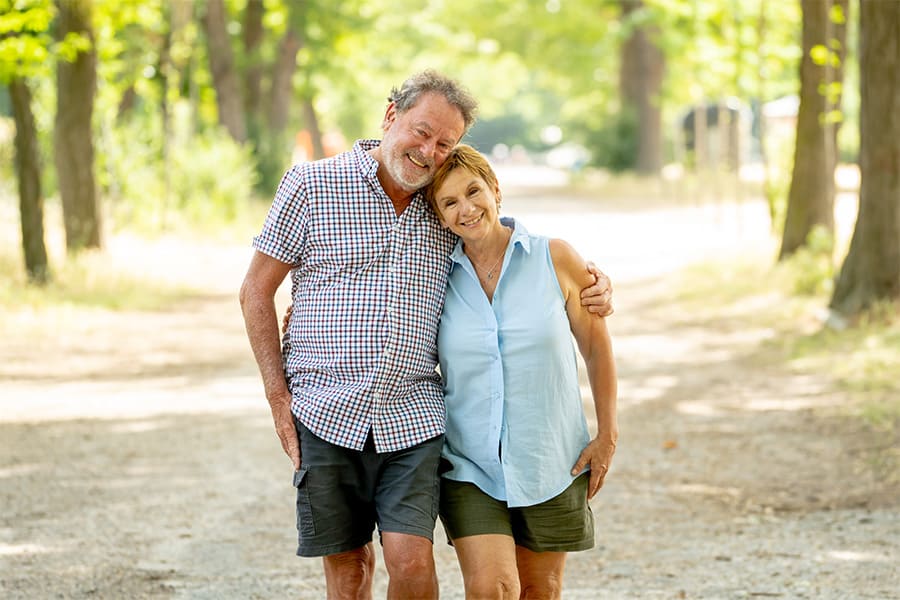 3) Moderate Temperatures | Four Distinct Seasons
For those who believe variety is the spice of life, you'll find it in the four distinct seasons of North Carolina. Fall is perhaps the most famous season to experience, but every one of them is distinct, special, and celebrated with festivals and events. The weather is moderate enough that you can take advantage of fresh air and abundant sunshine all year long. Goodbye, snowplow!
4) Low Cost of Living
Tax benefits, a bustling city, beautiful natural landscapes — you can enjoy everything Charlotte has to offer at a cost of living that's slightly below the national average. It's also about 3.3% less expensive to live in Charlotte than its neighbor to the east, Raleigh. The biggest difference you'll see is the cost of homes in Charlotte. They are, on average, 19.5% less than in Raleigh. A lower cost of living makes for a life well lived!
Best City in North Carolina to Retire To
We believe Charlotte is the best city in North Carolina to retire for all the reasons mentioned above, plus more! If you are thinking of making the move, visit our active adult communities throughout Charlotte and we'd be happy to show you around our great city!